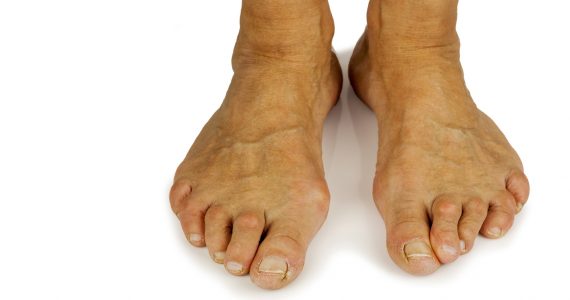 What are hyperalgesic conditions or hypersensitivity to pain?
Hyperalgesia (the pathological increase of sensitivity to painful stimuli) is commonly experienced following a series of primary pathologies (herpes zoster, diabetes, superficial peripheral neuropathies associated with inflammatory joint pathologies, various kinds of trauma and algodystrophy) which to varying degrees affect the quality of life of the population and especially very fragile individuals (the elderly, convalescents, patients with immune deficiency, etc).
Hyperalgesia of the foot, ankle and legs, is the clearest manifestation of tissue suffering that involves the nerve fibres of the pain as well as the cells belonging to the innate immune system. The immune system therefore plays a crucial role in dysregulating the neural pathways that perceive the pain and that innervate the cutaneous and osseous parts of the foot. In particular the mast cell, that ubiquitous immune cell in the peripheral tissues, is today considered – by international scientific literature – as the cause of irritative/inflammatory reactions brought on by a wide range of illnesses (aging, arthrosis, arthritis, AIDS, diabetes, osseous trauma etc).
Hyperalgesia conditions can either be of topical or generalised forms, resulting in a lowering of the pain threshold even in tissues not directly affected by the inflammation or by the tissue damage through a process of secondary hyperalgesia.
Hyperalgesia can be of various types:
Aging
Traumatic
Skin conditions
Damage to the central and/or peripheral nervous system
Spinal nerve root compression
Post-herpetic neuralgia
Post-operative pain syndromes
Strong states of anxiety and/or psychological stress
Diabetic neuropathy
What are the most frequent causes of Hyperalgesic foot conditions?
The most common painful foot conditions are:
Anatomic
Functional
Mixed
It is rare for an anatomic foot lesion not to have an effect at functional level and not to trigger direct or indirect pain.
Topical treatment of Hyperalgesic foot conditions
Adelmidrol, an innovative active ingredient with anti-neuroinflammatory and anti-pruritogenic properties, is able to control the mast cell component via an ALIA mechanism (Autacoid Local Injury Antagonism), increasing the natural level of Palmitoylethanolamide in the subcutaneous regions that are affected by the inflammation.
Palmitoylethanolamide, a substance belonging to the ALIAmide family, has pain relieving properties and is produced naturally by the body where inflammation is present.
During chronic inflammatory events (secondary to different pathologies) the biological system undergoes an endogenous deficit of Palmitoylethanolamide, a known mast cell modulator; it is therefore necessary to restore the normal amount of Palmitoylethanolamide in order to attenuate the sensitivity to pain of the nerve endings, for the purpose of reducing hyperalgesia in the feet.
The addition of Adelmidrol (ALIAmide) in specific creams, together with other natural components with an anti-inflammatory action, therefore guarantees excellent control of the pathological phenomena that are responsible for the onset of pain and inflammation.