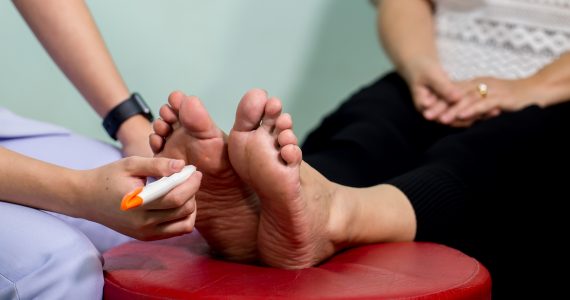 Distal Diabetic neuropathy is a common complication of diabetes, often chronic and disabling but frequently underestimated and inadequately treated. This short article discusses this emerging problem (affecting 1 in 3 people suffering with diabetes), providing indications on the diagnostic approach and on the latest generation of topical molecules that can be used to restore the health of the nerves and blood vessels (generally in the foot), which are often compromised in diabetic patients.
The clinical diagnosis of diabetic neuropathy does not necessarily require recourse to an electrodiagnostic examination if the clinical presentation is typical, but it does require a careful medical assessment (by a neurologist) of signs and symptoms, preferably with the use of questionnaires such as the Michigan Neuropathy Screening Instrument questionnaire.
Nevertheless, a podiatric appointment and an inspection of the foot could be essential for the early diagnosis of diabetic neuropathy.
By carrying out an assessment of:
– alterations in nerve sensitivity (with the use of monofilaments);
– vascular pain;
– deformity;
– dry skin, calluses;
– ulcers,
the podiatrist can indicate an early diabetic neuropathy and recommend that the patient undergo a specialist neurological examination.
In terms of topical therapy, active ingredients can be used that are able to modulate the aberrant biological mechanisms, the cause of signs and symptoms of a nervous (pain and alterations in sensitivity) and vascular (reduced flexibility and microcirculatory resistance) nature in patients with diabetic neuropathy.
Ask your podiatrist for advice.